My name is Felice Pace; in 2010 I organized the Project to Reform Public Land Grazing in Northern California and I continue to coordinate the Project. When I started documenting the negative impacts of public land grazing and using that documentation to advocate grazing management reform I was working on my own. Since then volunteers and college interns have joined in documenting impacts to water quality, streambanks, wetlands and wildlife habitat that result from poorly managed public land livestock grazing.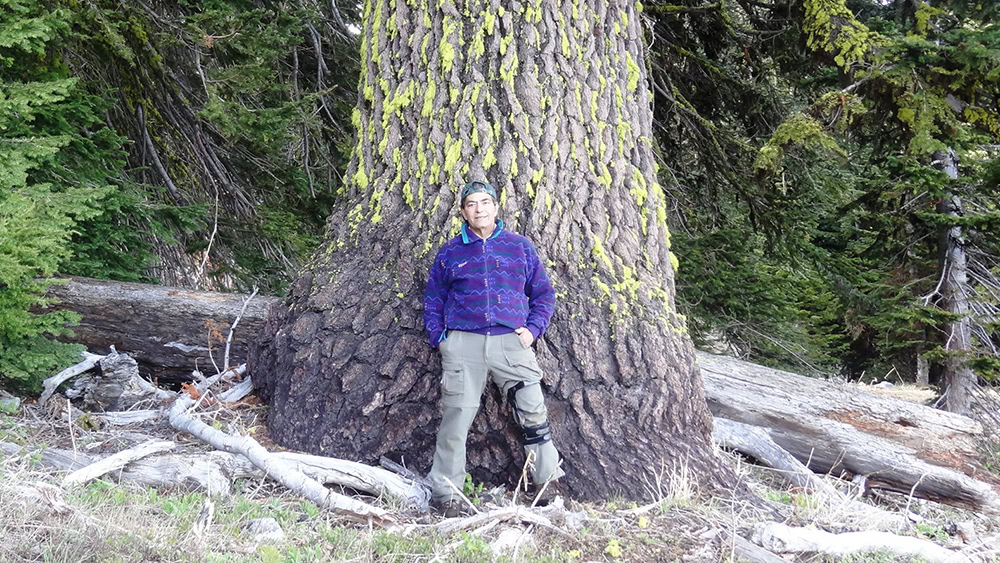 As a forty-year wilderness user, I had long been disturbed by the damage grazing cattle do to wilderness springs, meadows and streambanks. I also knew that livestock grazing had been "grandfathered in" when Congress designated wilderness areas and, while I did not like the damage being done, I did not hold much hope for change.
Then I saw a document from the Quartz Valley Indian Reservation reporting water quality testing the Tribe had been doing in the Scott River Basin. QVIR's water quality testing included streams flowing from national forest wilderness basins where grazing is permitted. The Tribe found those streams to be polluted with fecal bacteria and nutrients. The headwater wilderness streams where most public land grazing in Northern California occurs should provide the highest quality water imaginable but they are being polluted at the source.
Inspired by the QVIR efforts, I decided to walk those portions of the Klamath National Forest where Forest Service managers permit livestock grazing. My plan was to document the management practices which result in the water quality degradation and to use that documentation to advocate for reform of the manner in which public land grazing is managed. Public land livestock grazing may be "grandfathered in" but it is supposed to be conducted in a manner that protects water quality, streamsides, and wetlands from degradation.
I discovered that most livestock owners grazing cattle on Northern California public land do not herd their animals on a regular basis; instead, they drive the cattle to headwater basins dominated by wet meadows and leave them there for the entire thee-month-long grazing season. Some owners don't even gather their cattle in the fall; instead, they wait for snow up high to "convince" the cattle to walk home on their own.
This way of conducting grazing is known as Passive Continuous Grazing; it is not a best grazing practice. When cattle are not moved on a regular basis, rotating them among the pastures that make up a grazing allotment, they find a place they prefer and remain there until all forage is consumed or the snow forces them to lower elevation. Allowing cattle to remain in preferred locations dominated by springs and wet meadows for three months has consequences. Not only is water quality degraded, streambanks are trampled, riparian shade is reduced and wetlands are degraded.
Our strategy is to insist that Forest Service managers and California's Regional Water Boards require the regular herding, rest-rotation grazing and other best practices without which water quality is significantly degraded by livestock grazing. If those permitted to graze livestock on public land are required to implement what scientists and practitioners tell us are "best practices" to protect water quality and wildlife habitat, we believe many permit holders will not be willing to devote the effort and will voluntarily relinquish grazing permits.
The Project is sponsored by three environmental organizations: the Environmental Protection Information Center (EPIC), the Klamath Forest Alliance and Wilderness Watch. All on-the-ground grazing monitoring is 100% volunteer. The Project has received support for on-the-ground monitoring expenses from the Fund For Wild Nature, the Giles W. and Elsie G. Mead Foundation and from a group of EPIC donors.
All on-the-ground grazing monitoring is 100% voluntary. If you support our efforts, please let our sponsors and foundation supporters know via their websites. And if you see grazing-induced water quality or habitat degradation on our public lands, take a photo, note the location and send the photo and location information to me digitally via e-mail